Available Kittens
Available kittens by Amanukats. Currently offering generations F2, F6 and F7 savannah kittens. Watch our adult Savannah Cat page because we offer retired Savannah Cats due to retirement. They are healthy and up to date on shots and always ready to be a loving family pet. 419 533 3719
Savannah Kittens Available F5 Generation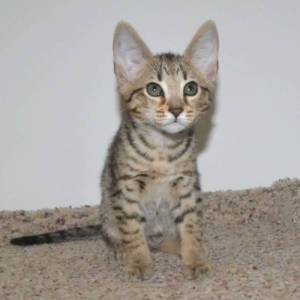 See what people are saying on our  Savannah Kittens testimonials page.
First of all, remember all Available Savannah kittens come with a full health warranty, shots and TICA papers. We pride ourselves in breeding some of the wildest and most exotic looking Savannah Cats in addition to well socialized kittens. If you have any questions about a kitten, please feel free to contact us. Or if you would simply like to talk to us about Savannahs, we are always happy to answer questions. We love talking about this breed.
What Does Closed Cattery Mean?
We are a closed cattery and do not offer home visits because the risks are simply too high. We do this most of all to protect not only your possible new kitten but to protect the entire Cattery. Also, please read out Closed Cattery page to understand what this means. While this seems strange, we have learned over the years this is the best way to assure happy and healthy kittens.
Visiting the Savannah Cats and Kittens
We understand many people are interested in the breed,  but due to diseases being spread easily in person, we try to offer many pictures and videos of the kittens. In addition to the pictures and videos, your welcome to call us and chat about the F2 Savannah Kittens anytime. Also we answer emails immediately.
Another question many people ask us is about is the difference between Generations and why there is such a difference in price between F1 Savannah Kittens and F6 Savannah kittens. We have created this page Generations Explained to help you understand the difference in simple terms. The Savannah Cat is a unique breed and tends to carry their personalities down through the generations. It doesn't matter if your buying an F1 or buying an SBT  because they will still have their silly antics of playing fetch and walking on a leash and finally, let's not forget that love for water, therefore make sure you leave the lid down. 😉
Feel Free to fill out our Savannah Kitten Application