F6 Savannah Kittens
F6 Savannah Kittens for sale. ***NONE AVAILABLE*** The kittens we breed are perfect examples of what a Savannah should look like. They are long and lean with a beautiful head and ears, not to mention the legs are wonderful. All our Savannah kittens come with TICA papers and a full health warranty. We offer F6 and F7 kittens. I am proud to say our F7 kittens can get as large as our F1 Mommies. Through the years we have bred for size and beauty and achieved both.
F7 Savannah Kittens Available Female DOB 9-22-2017 $1,500***SOLD***
F7 Savannah Kitten for Sale Female DOB 7-26-17 $1,500/pet ***SOLD***
SBT Savannah Kittens F7 Male 1 DOB 9-22-2017 $1,500/pet ***SOLD***
SBT Savannah Kittens F7 Male 2 DOB 9-22-2017/pet***SOLD***
Our past F6 Savannah Kittens
F2 Savannah Kittens for Sale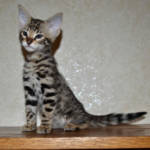 F5 Savannah Kittens for Sale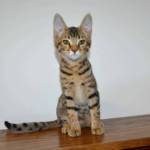 ______________________________
What families are saying about our kittens:
"Also, won't stop getting compliments on how beautiful she is– such long legs and big ears. I'm still shocked that she's an F6!"
The males "She loves them. She said they are the best studs she has seen."
All F6 savannah kittens come with TICA papers, shots and health warranty.  Please check out our upcoming F2 litter page for future kittens.
We NO LONGER hold Savannah kittens without a holding fee being placed.
First of all, don't be afraid to ask questions. Pick your kitten based on the kitten and the reputation of the breeder. NOT the price. I get calls all the time from people who have bought those cheap kittens that are sick or unhealthy or die within months.  Anyone who has bred savannah cats knows if your doing it right your not making much money. Sure we all make a little money or we wouldn't do it, but trust me there is no boat load of money for the responsible breeder. When picking out your kitten, talk to the breeder. Understand the difference between the generations. We have many calls saying, I want a BIG cat but as soon as they hear the prices of cats they quickly change their minds. We do it for the love of the breed, not the money.
See our about page to understand the difference between F2 and F6 generations. All F6 Savannah kittens for sale come with a full health warranty and TICA papers. We are a long standing Savannah cat breeder located in Ohio. We welcome question about any of our Savannah Kittens. Please phone us at 419 533 3719. Amanukatz is a "closed" cattery, meaning we don't allow tours.  We do not allow visitors to come play with kittens or visit just to see what a savannah kitten is. We do have a savannah kitten pick up room available as long as it is not being used by a new mama.
| Male Pricing | Female Pricing |
| --- | --- |
| F1 Savannah Kittens $10,000-$17,000 | F1 Savannah Kittens $10,000-$17,000 |
| F2: Savannah Kittens $5,500-$7,500 | F2: Savannah Kittens $5,500-$7,500 |
| F3: Savannah Kittens $2,500-$4,500 | F3: Savannah Kittens $2,500-$4,500 |
| F4: Savannah Kittens $1,500-$3,500 | F4: Savannah Kittens $1,500-$3,500 |
| F5-7: Savannah Kittens $1000-$3,000 | F5-7: Savannah Kittens $1000-$3,000 |
---