Our Cattery
Our Cattery is a registered TICA cattery breeding those awesome Savannah Cats. We pride ourselves on breeding some of the most amazing wild looking Savannah kittens.
A little about our cattery;
We are a "Closed Cattery'" this means we do not allow visitors to our cattery. Since the Savannah cat is such a new breed and there is so much interest in the breed, we constantly get calls asking to come and see our Savannahs.  We no longer allow this and I have listed some of the reasons below.
We allowed visitors in the beginning. A family came and brought their dog which I felt was rude anyway, but shortly after they left, I saw a flea. We DO NOT have fleas here. I immediately had to contact my vet and started my cats on preventative treatment.  First, I don't like giving chemicals to my animals and second it was very costly. Needless to say shortly after they arrived it was clear they simply wanted to see what a Savannah Cat was and had no intentions of purchasing.
Many people can carry diseases in on their clothes and feet. I do not like to put my Savannah Cats or your Savannah Kittens at risk. Especially since I am not a petting zoo or a pet shop. We take very good care of the kittens and put their health at the top of our priority list.
The time we spend showing the cats to curious people is time away from the care of our cats. I would rather spend my extra time taking care of the Savannah Cats.
Getting your new Savannah kittens
We now offer to meet new families in a public place as it's too difficult to say no when families start to beg to see all the cats.  😉  We post many pictures and videos online for you to see without having to possibly infect our cattery.  Your veterinarian will appreciate the fact we are a closed cattery too. It makes for a much healthier kitten.
---
---
All our Savannah Kittens comes with Shots, health warranty and TICA papers.  Please feel free to ask us any questions you may have. We are always available.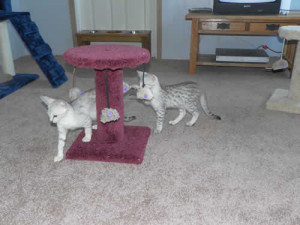 A little more about us. This is the second love of my life.  My Friesian "Hilde" As long as I have my cats and my horse I am a very happy person. Both have brought such joy in my life 🙂