F5 Savannah Kittens
F5 Savannah Kittens for Sale.  Only 2 left  The father of the kittens is shown below. He is our home grown F7 male with monster ears. He stands 16 inches tall at his shoulders so the babies should be really nice size Savannah kittens. The Savannah Kittens have wonderful personalities.Will make an awesome gift under the Christmas tree.
---
F5 Savannah Kittens Female 1
$1,500/Pet ONLY
F5 Savannah Kittens Female 2
$1,500/Pet ONLY
Father of the F5 Savannah Kittens
---
F2 Savannah Kittens for Sale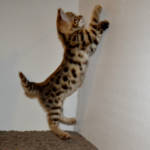 F6 and F Savannah Kittens for sale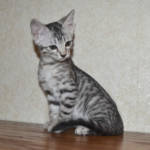 All Savannah Kittens come with TICA papers, crate, pet bed, food, toys and of course up to date on age appropriate vaccines and health warranty. When you buy from Amanukatz you are buying from a Savannah Cat breeder with years of experience. You not only get a healthy quality kitten but you become part of our Savannah family.
Why I should not buy cheap savannah kittens
You might find someone selling cheap savannah kittens, however please beware. Many new breeders are jumping into the picture and trying to make a fast dollar. First of all, a good breeder knows there is no such thing. Also, they don't pay attention to bloodlines and genetics. In addition to them buying a cheap savannah cat, they end up selling cheap savannah cats. Because of this, there are many sick and poorly bred babies out there. Therefore we ask you to check out your breeder before you buy. Make sure they have experience behind them and finally, call them on the phone and talk to them. Finally, don't ever wire money without speaking to the breeder, because of so many scams. Another good idea is to make friends with your breeder so you know your breeder will be there after the sale..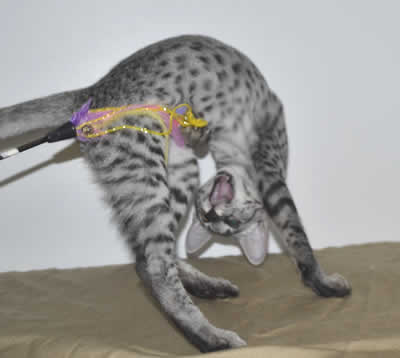 | Male Pricing | Female Pricing |
| --- | --- |
| F1 Savannah Kittens $10,000-$17,000 | F1 Savannah Kittens $10,000-$17,000 |
| F2: Savannah Kittens $5,500-$7,500 | F2: Savannah Kittens $5,500-$7,500 |
| F3: Savannah Kittens $2,500-$4,500 | F3: Savannah Kittens $2,500-$4,500 |
| F4: Savannah Kittens $1,500-$3,500 | F4: Savannah Kittens $1,500-$3,500 |
| F5-7: Savannah Kittens $1000-$3,000 | F5-7: Savannah Kittens $1000-$3,000 |